Sustained efforts to recover from a pandemic are needed, with widespread consequences from its effects.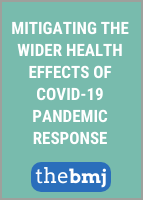 Featured article; Countries worldwide have implemented strict measures for COVID-19, these together with the impact of the disease itself have, economic and health consequences. This article discusses the mechanisms, effects and mitigation measures.
Featured resource; COVID-19 Global Gender Response Tracker: The COVID-19 Global Gender Response Tracker monitors responses taken by governments worldwide to tackle the pandemic, and highlights those that have integrated a gender lens. It captures two types of government responses: women's participation in COVID-19 task forces and national policy measures taken by governments. It analyzes which of the policy measures address women's economic and social security, including unpaid care work, the labour market and violence against women. The Tracker can provide guidance for policymakers and evidence for advocates to ensure a gender-sensitive COVID-19 policy response.
Featured presentation; From the Carnegie Endowment "African economies still recovering from slowdown caused by the global pandemic are again at risk of destabilization. Russia's invasion of Ukraine, low COVID-19 community vaccination rates, increasingly severe climate incidents, and a global economic downturn present substantial challenges and African policymakers must respond to spare their nations from economic disaster. Yet, given constrained fiscal space and rising debt, how can policymakers position their economies on a path of sustainable recovery? Is the $100 billion in Special Drawing Rights pledged by G20 countries to vulnerable nations enough to mitigate the strain? And how do calls for reforming the Bretton Woods system and global financial institutions impact the path forward? Join Carnegie, in partnership with the International Monetary Fund, for a special conversation on the IMF Regional Economic Outlook, featuring Carnegie Africa director, Zainab Usman, and IMF director for Africa, Abebe Aemro Selassie." How African Countries Can Navigate the Turbulent Global Economy - YouTube
---
---

Global organizations and initiatives; UNCTAD is monitoring the effects of the global pandemic on manufacturing, trade, foreign direct investment, and economic growth. COVID-19 response and recovery | UNCTAD
The World Tourism Organization (UNWTO) is the United Nations agency responsible for the promotion of responsible, sustainable and universally accessible tourism. It provides a range of resources on recovery COVID-19 | Resources | UNWTO
---